aPrice per Head: UFC's Shane del Rosario put on life support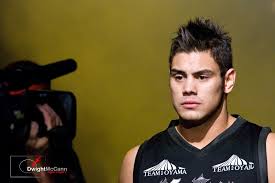 It was reported that UFC fighter Shane del Rosario was put on life support after he suffered cardiac arrest caused by two heart attacks on Tuesday morning, and price per head services were very sorry to hear the news.
Pay per head services learned that doctors at Hoag Memorial Hospital Presbyterian in Newport Beach, California, are expected to make a decision on whether or not to pull the plug on del Rosario on Friday morning.
"Unless something crazy happens the machines will be turned off," said Colin Oyama, del Rosario's coach.
Oyama also said that there is no brain activity shown by the 30-year-old and that "for all intents and purposes it is over."
Jason House, the heavyweight's manager, told SB Nation that it would take "a miracle" for the fighter to recover.
Price per head services saw that on Thursday evening, false reports that del Rosario passed away were circulating after an article under Gross' name was published by ESPN UK saying that he died. Gross denied writing the story.
If you see an ESPN UK story with my byline saying Shane Del Rosario has died, ignore it. I didn't write that. Don't know what's up. Awful.
-Josh Gross (@JoshGrossESPN) November 28, 2013
Oyama also released a statement on Facebook suggesting that del Rosario was taken off life support.
"Thank you for all your prayers and wishes," the statement reads. "Shane fought till the very end and is in a better place now. We love you Shane!"
UFC boss Dana White acknowledged on Twitter the fighter's apparent death.
RIP Shane Del Rosario pic.twitter.com/M0MzCKJgTK
-Dana White (@danawhite) November 28, 2013
The fighter started in 2006 his mixed martial arts career, and he competed in EliteXC, M-1 Global, and Strikeforce. He then signed with UFC in 2012 but was not able to win a match.
Contact us today and let us explain exactly how price per head services work.
Price per head services found out that Del Rosario was set to fight Guto Inocente at UFC 168 next month in Las Vegas, but had to pull out because of a rib injury.
–