Thabo Sefolosha Out for Season after Arrest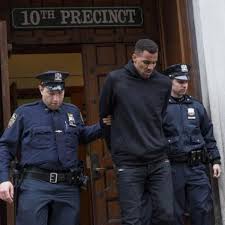 Early Wednesday morning Thabo Sefolosha, shooting guard and small forward for the Atlanta Hawks, was arrested with obstructing governmental administration for refusing to clear the area of the crime scene. The crime scene was the stabbing of Indiana Pacers forward Chris Copeland and a female friend, outside a nightclub.
Hawks center, power forward and a favorite in NBA odds, Pero Antic was also arrested and insists that it was not their fault.
"The only thing I can say is we feel bad for the bad publicity that we brought to the Hawks organization, the Hawks family, not by our fault," Antic told the Atlanta Journal Constitution. "I just want to say I am going to be supportive of Thabo, my teammates and just think about the basketball right now and the good things we can do."
"The video speaks for itself," Antic said, as a video was released of the incident by TMZ.com.
The video seems to show an NYPD officer strike Thabo Sefolosha with a baton, which may have been the cause of the fracture of the fibula of the NBA player. Sefolosha is now out for the remainder of the season.
"It is a legal matter. We have great people who are great doing their job. We are going to let them do their job. We are going to try to do our job and do what we can because we have big goals for this season."
The incident has sparked a conversation about how late a player should be out and the questionability of the areas he hangs out in, and the light it sheds on the NBA.
Antic said, "we apologize for doing that and bringing that publicity but the big picture is the other stuff. We apologize."
Recent events with, NFL players Ray Rice and Adrian Peterson have made the public question the leagues could ignore what happens to their players, especially in regards to domestic violence.
"This team went through a lot of obstacles. We feel bad for Thabo. We need him. He's a big part of our team. We are going to support him," Antic said. "It's a rough time for him. We'll continue to try to fill his spot. Some guys will have to step up.
The NBAPA will now look into the incident that has affected NBA odds.