Steeler's Troy Polamalu Announces his Retirement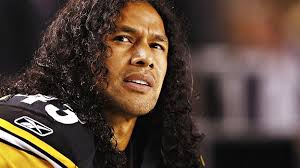 The NFL betting community learned Friday that Troy Polamalu, safety for the Pittsburgh Steelers, had decided it was time to finally retire after 12 years in the NFL, despite having signed a 3 year contract extension a month earlier.
"It's all about family," said Polamalu in a phone interview with the Herald Standard. "I live here in Pittsburgh now, and since the end of the season I've had a chance to enjoy my family on a level I never had before. It was awesome."
Pittsburgh has been his only NFL team, so it's unclear if he and his family will decide to move to a new location.
"I did not seriously consider playing elsewhere," Polamalu said. "It was just whether or not I wanted to play. I had talked to a lot of people about what I should do with my situation, and what they kept saying back to me, and which was not a sufficient reason, was 'Troy, you played 12 years in the NFL, you won Super Bowls, won individual awards. There's nothing left to prove. You have a legacy.'"
For some it's about the glory, for others it's simpler than that and that is what makes sense.
"I play the game because I enjoy it. That's the reason to keep playing."
"Like I said, what it came down to was definitely family. If I'm in my fourth year, fifth year, even if I'm in my 10th year, I'm playing in Alaska. But when I started this process and started to debate whether I should come back or should I play, that was kind of the sign for me to say 'Whoa, if you're just even debating it maybe you shouldn't play anymore,' because what I do know about this game is it takes a lot –a lot – of commitment just to be an average player."
With his retirement from the NFL betting odds Polamalu hopes to relax and enjoy his family while he looks for what he'll do next. He is thankful for his career and the fact that he is able to take the time.
One thing is clear to the other players on the Steelers team; they will miss the big personality that is Troy Polamalu, both on the field and off.