Art Rooney doesn't think that there will be a playoff expansion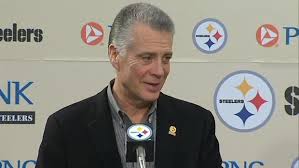 On Wednesday, Steelers president Art Rooney said that he doesn't think that the NFL will add two more teams to the playoffs this year, but live betting services and fans alike believe that it could be a very interesting option.
Having another wild-card team added to each NFL conference was talked about for a few years, and it's set to be an important point of discussion in March, when the owners meet. However, Rooney believes that this expansion won't take place.
"I'm not necessarily opposed to the idea of adding a playoff team or adding a team from each conference," said Rooney. "But my view on that depends a lot on what goes with it. Schedule is certainly a factor: When would this game be played? The fact that we would now wind up with likely only having one team in each conference with a bye is not a great outcome.
"There are things like that I think we would have to look at and think through before a decision is made on this, and that may be one reason why this is probably not a decision that gets made this year."
Roger Goodell, NFL commissioner, was in support of two additional wild-card teams, which would move the field of the playoffs from 12 teams to 14, and live betting services know that there are quite a few owners who support this, even though the league has a vote delayed on a playoff expansion.
However, because the NFLPA does not agree with an expansion of the regular season to 17 or 18 meetings, adding teams to the playoffs is the only convincing choice that the NFL has.
The TV partners of the NFL would have no problems with the plan to have more games in the playoffs, and there's also the prospect of showing in prime time both of the added wild-card games. If the expansion does take place, each conference would have one playoff bye in the first round, and instead of having four wild-card round meetings, there would be six of them.
Goodell was very positive about the playoffs expansion in May.
"I do believe it will be approved for the 2015 season," said the commissioner. "We want to see how it will impact in a positive way from a competitive standpoint. Will it create more excitement, more races toward the end of the season? Who will ultimately qualify for the playoffs?"