Bernard Hopkins said that Carl Froch was trying to avoid fighting him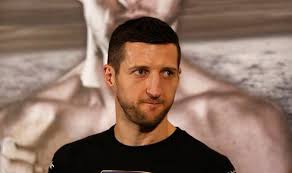 Bernard Hopkins said that Carl Froch wants to take the 'easy way out' after downplaying reports of a possible clash with the 50-year-old American boxing legend, and bookmaker software services wonder if there will be more tension between the fighters after these words.
The fighter from Nottingham was thinking about the options that he has for his future after a problem with his elbow didn't let him have a proposed meeting with Julio Chavez Jr. in Las Vegas.
Hopes of a domestic meeting with James DeGale also came to an end due to this setback because of injury, as last week 'The Cobra' was in agreement to empty his IBF belt, but there were reports saying that Froch gave different responses to Hopkins' proposal to become his new opponent in the ring.
Even though Froch – 37-years-old – highly respects Hopkins, he said that a meeting with the oldest champion in boxing would be as a 'lose-lose situation'.
"He says it's a lose-lose situation, but he's in a lose-lose situation if he fights somebody that we know he can beat," said Hopkins.
"I don't think anybody, at least I think, is picking Chavez to beat Carl Froch. Carl Froch is looking for an easy way out.
"Somebody got in his ear and said: 'don't underestimate Bernard, because Bernard is always good at redeeming himself after a loss and coming back strong. I'm going to be dead serious – I called his bluff."
The American who's considered by many experts to be a real force to reckon with in the ring said that he will drop a weight division after he ended up being beaten by Sergey Kovalev in points, giving up his IBF and WBA titles in the light-heavyweight division.
During his career, Hopkins was able to beat a series of very important names, and the fighter is confident that Froch could be his next victim.
The American said: "How could he ruin his legacy losing to a Bernard Hopkins? So that means Oscar De La Hoya, Felix Trinidad and all these guys ruined their legacy? The media would kill the fight if it didn't have no merit to it. That is so weak."
Boxing fans everywhere would certainly not mind seeing 'The Cobra' take on Hopkins, as bookmaker software services believe that this fight could prove to not only be very intense, but quite interesting as well.