Blake Griffin is making good progress after elbow surgery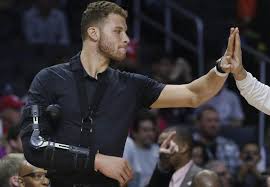 Blake Griffin seems to be making good progress since last week's operation on his elbow for a staph infection. Pay per head sportsbooks can see this is great news for the Clippers and the player's fans, who hope that his problems on his right elbow stay in the past.
"It feels better," said Griffin. "I saw the doctor yesterday and got some good news. Everything's either on track or looking better than it was. Still don't really know a great timetable, but I'm happy with how it feels."
The 25-year-old, who didn't feature in the All-Star Game that took place on Sunday, and who last weekend he didn't go to New York after fans picked him as a starter for the game, said that the whole infection was cleared out on Monday, and things appeared to go smoothly since then.
If everything goes according to plan, the following step would be for the forward's elbow stitches to be taken away next Tuesday, when doctors will again reevaluate the progress made.
"I honestly don't know the timetable to be honest," said the player. "I just go by what [the doctor] says. He said it looks good."
Several sources said that Griffin could be out of the game for even six weeks, something that worries many fans
"I haven't been able to do anything," said the player. "I can't sweat. So, I haven't done a thing."
Coach Doc Rivers disregarded the thought of the Clippers looking more at the trade market due to the injury suffered by Griffin.
"We'll never do a trade because the guy is injured and you're going to get him back," said Rivers. "That's short-term thinking and that's poor thinking. That'll never happen."
Pay per head sportsbooks know that during his career in the NBA, the forward suffered from bursitis in the right elbow, and throughout the season it was routinely drained. However, he did feel his elbow differently after the surgery was performed on the 2nd of February.
"Couple days later, I started feeling something in my elbow," said the player. "I got sick at the same time but didn't really put the two together. But, I mean, I've gotten my elbow drained 20 times in my life and never had a problem. So I didn't really think a lot of it.
"And then Thursday, I think, before the Cleveland game is when it was really giving me a lot of problems. And then after the game in Cleveland, I couldn't extend my arm without pain. I didn't think I was going to be able to play in Toronto so I think over that 24-hour span that's when I knew something was really wrong."