Bruce Arians was furious after Campbell's injury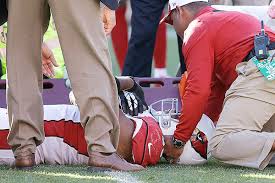 The Cardinals' football betting fans are very worried about how the team will do from now on, as in the game against the Broncos they ended up losing one of their most important players, and that's not all – coach Bruce Arians was furious after his team suffered yet another injury.
QB Drew Stanton suffered a head injury in the team's game against the Broncos on Sunday, where they lost 41-20, and this injury proved to be a concussion.
The Cardinals also lost the services of Patrick Peterson – their star CB – due to an injury to the ankle, but it was the knee injury suffered by DE Calais Campbell what made Arians angry, as he said that it was "the dirtiest play I've ever seen."
The player's MCL was injured after Denver TE Julius Thomas chop blocked him in the second half, when the Cardinals made the opening drive, and many football betting fans believe that the hit was nothing short of vicious.
"I've been coaching for 37 years, and it's the dirtiest play I've ever seen in the National Football League," said Arians. "It was a flat chop block that put him out of the game. I've never seen anything like it. I know [Broncos coach] John Fox, and he's a great coach and a great guy. Somebody has got to answer to that.
"A fine isn't going to do it when [Campbell is] going to miss three to four weeks on a blatant chop block."
When USA Today Sports informed Thomas about the comments made by Arians, the player had something to say:
"I guarantee that being dirty is not a part of my game, and to intentionally hurt somebody is not something I would ever do," said Thomas.
The Cardinals' coach thought that what the player could have suffered was a partial tear, and said that it was at least a sprain.
As Stanton left the locker room, he wore sunglasses, and this week the player will have to go through the NFL's concussion protocol. During the third quarter, Broncos LB Von Miller hit the player on a pass that ended up being incomplete.
As Carson Palmer, the Cardinals' starting QB, is not available due to a shoulder injury that involves a nerve, the team decided to use the services of Logan Thomas, who is not a very prominent QB.
Peterson, who had no choice but to leave the game in the fourth quarter due to an ankle sprain, believes that an even bigger injury was avoided.
"I'll be OK," said Peterson. "Just got to get back to Arizona and maintain it and do a little bit of rehab, and I'll be ready for Sunday. It's just a mild bump in the road. I'll be OK."