Dirk Koetter to work on the Bucs' offense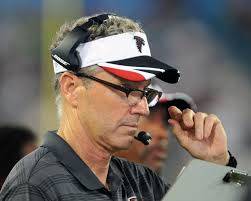 Dirk Koetter will now be the Bucs' new offensive coordinator, in a move that online bookmakers and fans alike believe could really change their game.
The last three seasons that Koetter had were spent working with the Falcons. Before he was with Atlanta, Koetter spent five seasons with the Jaguars as their OC. He was also a head coach with the Boise State Broncos and Arizona State Sun Devils.
"I'm very excited to welcome Dirk to our staff," said Bucs coach Lovie Smith, and many fans are also thrilled to see him join the team. "With over three decades of experience at both the college and the NFL level, Dirk has a proven track record as a top offensive coordinator. During his time in Atlanta, he led one of the most productive offenses in the league and I believe he will enjoy similar success here with the exciting young players we have on offense. It became very apparent early in our conversations that we share some of the same philosophies regarding the offensive side of the ball and I look forward to working with Dirk as we begin preparing for the 2015 season."
2014 didn't see Tampa Bay have an OC. The job went to Jeff Tedford, but before the beginning of the season he underwent heart surgery. Initially, Tedford was going to take some time away from work, but he didn't return to the team. In December, Tampa Bay let him out of his deal, and now he's a coach in the CFL.
In the absence of Tedford, the Bucs' offensive staff helped QB coach Marcus Arroyo call the plays.
Koetter, 55-years-old, is inheriting an offense which this last season had a ranking of 30th place in the NFL. They might also get the services of a brand new QB. Tampa Bay have the draft's first overall pick, and they could decide to use it on the Florida State Seminoles' Jameis Winston, or on the Oregon Duck's Marcus Mariota, and fans all over the country are very eager to see who the Bucs could pick as their new QB. If they pick any of these guys, the team could change dramatically, and this is something that the football world would not mind seeing.
NFL fans believe that the Bucs will change for the better, and many online bookmakers are confident that next season could see things turn around completely for the team.