Eddie Hearn wants to see a world title fight between Brook and Khan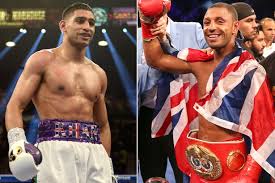 Eddie Hearn said that talks were being held for a world title bout between Kell Brook and Amir Khan, in what boxing fans all over the world believe will be a real show, and pay per head sportsbooks would certainly not mind seeing both welterweights hit the ring.
Khan was waiting to get a very profitable fight against the world-famous Floyd Mayweather, but the American – who is still undefeated – decided to take on Manny Pacquiao in what is set to be a super-fight taking place in the 2nd of May in Las Vegas.
The animosity between Brook and Khan was reaching a boiling point since both fighters were sparring in the England squad, with Khan saying that his opponent was inferior in the ring.
Hearn, Brook's promoter, wants to see a fight take place in the summer between both fighters, but he told Khan that he if he doesn't move quickly, he could be missing out on an opportunity take the IBF title away from Brook, and boxing fans all over the world hope that he acts as fast as possible for this showdown to take place..
He said: "I've met with some representatives from Team Khan recently and obviously he was waiting, quite rightfully so, for the opportunity to fight Floyd Mayweather.
"But that is now not happening and I think obviously the fight with Kell Brook makes sense. It would be a massive fight for British boxing it carries a world title. Amir is confident that fight will happen but we want it sooner rather than later.
"Brook-Khan for me is just a natural fight and we can't wait for Amir. We are going to be looking at Marquez, we're looking at Maidana, even the winner of Mayweather against Pacquiao, because the bottom line is with those two fighting there will only be two world champions in that division. That's either Pacquiao or Mayweather and Kell Brook, so it's a chance to fully unify the division.
"It's frustrating because Khan is the fight that we all want. We feel like the nation wants it as well and really, there is no reason why that can't happen next."
Fans everywhere following these fighters and pay per head sportsbooks alike hope that everything goes smoothly for this clash to take place, as it will definitely be something to watch, and hopefully there will be no setbacks.