Gregg Popovich is back with the Spurs after medical procedure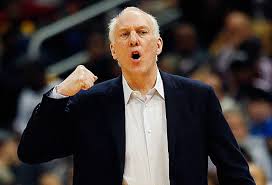 Gregg Popovich, Spurs coach, went back to the team's sideline in Boston after he missed two of their games due to a medical procedure – luckily a minor one – and live betting services were glad to see him back.
The reason for the operation has not been disclosed, leaving many fans wondering what exactly happened to him.
When he met with the media before the Spurs' 111-89 win against the Celtics on Sunday, the coach was asked if he was feeling happy to return to his position as coach.
"Sure. I don't know what else I would do," said a 65-year-old Popovich. "It's winter, you know, plants don't grow. I'm having a fight about books right now because I've decided that, at my age, there's so many things you want to read, that you can't do it. So do you just give up and read nothing, or do you go into high gear and read everything that you can find? I just thought I'd throw that out there."
A reporter was joking about the coach getting very deep after only having missed two meetings, and he said, "That's what your mind does. You start thinking about weird things. … I have some more if you want to hear them. All kind of things went through my head."
Then Popovich was asked if watching his own team play on TV was strange for him.
"Oh, definitely. You rarely get to do that," said the coach. "You realize that it's probably harder for the people that watch than the people that are in the battle. Your family, [general managers] and their staff — you watch it and you don't have any control over anything. You just live and die with every play and every call, that sort of thing. So it's much easier sitting on the bench and being in the middle of the fight."
"No, I'll save it for when I'm coaching," he joked, when asked if he was yelling at the televison.
San Antonio were able to beat both the Pacers and Kings while assistant Ettore Messina coached the team in these last couple of matches, something that many fans believe could only make for a very happy Ppopovich.
The Spurs' fans and live betting services were very pleased to see the coach return to the ranks of the team, and hope that he continues to be in good health.