Hoge had some very harsh things to say about Manziel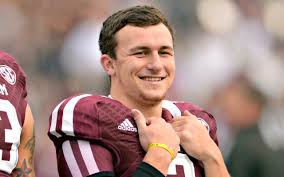 Local bookies obviously want to know if Johnny "Football" Manziel will prove to be successful as a professional player in the NFL. However, former running back Merril Hoge had something to say about this big question mark.
As an analyst for ESPN, Hoge has no problems whatsoever saying what he thinks, and on Wednesday he did not hesitate for a moment when he shared his thoughts on Manziel. Many fans of the Browns were shocked when they heard what Hoge had to say about the team's new quarterback when he featured on WDVE-FM, a radio station in Pittsburgh.
"If you're the Steelers' defense (playing Cleveland in Week 1), you want No. 2 (Manziel) to walk out on that field," he said. "You want him on that field. He has no business being on the field right now."
The former player went straight to the headlines for the very direct scouting reports he made of Tim Tebow after the free agent was enlisted, and many fans were shocked by his honesty. Hoge now decided to target Manziel.
"When I was doing the draft and I was going through and studying him, I actually got done and it was the first time other than Tim Tebow came out and I was like, 'God, there is nothing —€" nothing that he does — that transitions to the National Football League,'" Hoge said. "There's not one skill set that he had that you're like, 'Gosh, he's a first-rounder.' Really, nothing."
Hoge also ripped the quarterback after an alleged text message sent by the player on draft night to his new team.
"When he texted the Browns and said 'Let's wreck this league,' that didn't just burn players; it infuriates coaches," he said. "It told you, too, that he's a juvenile punk. He was like that, and he's still like that."
"This will be the saddest, quickest ending we have seen in quite some time," he said. "It'll be like a Tim Tebow (situation)."
But local bookies saw that Manziel took a diplomatic stance when he reacted to what Hoge had to say.
"Stuff pops up on my phone and I happened to see something," Manziel said. "He's been in the opposite corner of me for a while now, so all I can really do is go out and try to prove him wrong. He's entitled to every bit of his opinion."