Howard could miss the game against the Mavericks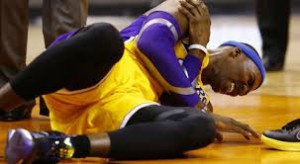 There's a chance that on Wednesday night, Dwight Howard – a big favorite with many fans and live betting services – could end up missing the Rockets' game against the Mavericks after the player suffered a twisted right ankle when the team was holding practice.
Howard didn't play on Sunday after the game on Friday night, when he suffered a sprained ankle. On Tuesday, the player started to practice again, but in practice he twisted his ankle, and had to pull out.
"Hopefully I can play … we'll see what happens (Wednesday)," said Howard.
Also on Tuesday, Terrence Jones had his first complete practice session since his injury, and Kevin McHale – the team's coach – said that on Wednesday he would be able to play.
"If he feels good we'll try to get him some time," said the coach.
The 23-year-old forward wasn't able to play since the 3rd of November due to his left leg suffering nerve inflammation, but he's very eager to return to action.
"It took a while but it's finally becoming a reality and I get to get back to myself," said Jones. "It's just going to be exciting."
Throughout last season, Jones was the starting power forward for the Rockets, as he had a 12.1-point and 6.9-rebound average. The player also started the season well. He had an average of 14 points, as well as 7.5 rebounds in four of the team's meetings.
"He had a really strong training camp and at the start of the season he was playing very well, was confident, moving very well, stronger," said McHale. "So right now it's getting a guy that can move right into your rotation, it's like making a trade. It's huge for our team."
The player's teammates would like to see the forward hit the court again, and James Harden – the top scorer in the NBA – spoke about the good things that the player gives the team.
"It brings another dimension to the team," said Harden. "His scoring ability. He's so versatile, especially defensively and we've missed him for most of the season."
Jones isn't too hyped up about playing right now, as he must be certain that he can return to action for Wednesday's meeting, but he would definitely like to see this happen, and live betting services are well aware of this.
"I'm just happy to be back to the team and hopefully everything can go back to the way it was when I first started the season," said the forward.