Josh Smith not welcomed by fans in his return to the Palace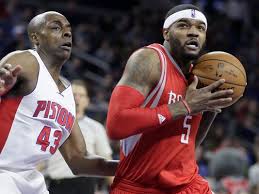 A little over a month passed since the Pistons released forward Josh Smith, and many fans were booing at the player as a member of the Rockets, something that live betting services considered to be completely unnecessary.
The same thing was done by Detroit, when they won the game against Houston 114-101 at the Palace.
Before the meeting took place, Smith said that he didn't see his past team in a bad light at all – a team that won seven games in a row once they released him.
"I still have friends on this team, where we hung out and we had fun times and fun memories together," said Smith. "I have no hard feelings. When they went on that winning streak, I knew the process and the hard work that we had to put in right after Labor Day weekend, all the way into training camp — it was finally kind of paying off."
The Pistons decided to release the player late in December – something that took place less than a season and a half after he was acquired as a free agent for the team. Detroit did well on the court after he left, and he caught on while playing with one of the best teams in the NBA, and is doing his part.
"I kind of sat back and looked at it, and I saw it as being a blessing," said Smith. "I had an opportunity now to play for a contender and really try to do something special this season."
Detroit were able to win the first seven meetings after they released Smith, but last weekend Brandon Jennings' left Achilles tendon was ruptured, and the Pistons again started to struggle.
In the meantime, Smith mostly left the bench for Houston. Live betting services saw that the player's scoring has gone down, but has a better percentage in shooting.
"I've enjoyed Josh. Working with him has been great. In our system, we try to get him to do things that we think he does real well," said Kevin McHale, Rockets coach. "Have him drive, have him play-make, have him kick out, get defensive rebounds, push it down the floor."
When Smith was cut by Detroit, coach Stan Van Gundy was looking to change things in the team's offense, and said that it could have been unfair for Smith to have a reduced role now.
The forward seemed to feel well about the thought of him turning into a reserve, but Van Gundy said that the Pistons wouldn't have been helped much by that move.
"He's in a totally different situation with a totally different team in a totally different role. The people around him are not even similar," said the coach. "How he would have played here probably wouldn't have changed a lot. Just, he would have been coming off the bench."