Kevin Duran will sit out indefinitely after problems with his right foot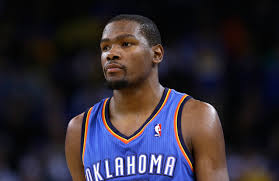 Oklahoma City Thunder's Kevin Durant, a 6 time All Star, will sit out indefinitely after problems with his right foot, which had previously had surgery.
The 26 years old Durant had broke his foot during the off season and started experiencing soreness. To help stop the pain doctors inserted a screw in February, and although he seemed to be slowly recovering, he was never 100 percent.
NBA odds providers believe that the re-injury occurred when Durant returned too soon, when the broken foot wasn't fully healed.
"Right now, we've decided to take him off the floor so the people who are the experts can make the (medical) determination," Thunder GM Sam Presti said on Friday to reporters.
Durant had tried to get back into the swing of things, but he still was experiencing some pain and soreness in his foot.
Averaging 25.4 points per game, Kevin Durant is one of the NBA odds favorites and the 2014 Most Valuable Player.
"When he's healthy to play and when he's able to return without that soreness, he'll be back on the floor," Presti said. "If that takes the rest of the regular season, if that takes the rest of the playoffs, that's what it's going to take."
The news may have a dramatic effect on Oklahoma's NBA odds as the playoffs approach. Although he's not out for the season, it is still unclear if he will be able to play if the Thunder get past the regular season.
With a one game lead over the New Orleans Pelicans, this is a player that will be sorely missed along with Serge Ibaka, who is also out indefinitely.
On March 11th Oklahoma City Thunder coach Scott Brooke though he would be ok in a few weeks, but apparently that timeline wasn't working.
"Indefinitely" doesn't necessarily preclude Durant from returning this season," said Presti. "It does, however, cast significant doubt on the prospect of a comeback to anything resembling his prior, All-World offensive form this season."
The New Orleans Pelicans are currently also having injuries plaguing their team with several questionable and Jrue Holiday out indefinitely.