Kingsbury extends his contract with Texas Tech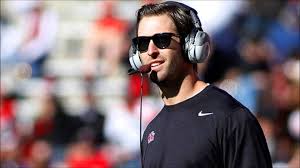 Texas Tech's fans and pay per head agents were delighted to learn that Kliff Kingsbury agreed to extend his contract with the school through the 2020 season, in what many experts believe is a very good move by both team and coach.
In 2015, the coach will be paid $3.1 million, along with a $200,0000 yearly raise that will see his salary go up in 2020 to $4.1 million.
Kliff Kingsbury has agreed to a contract extension that will keep him at Texas Tech until 2020. #WreckEm
– Texas Tech Athletics (@TechAthletics) August 29, 2014
The Red Raiders' fans remember when in December 2012, Kingsbury turned into Texas Tech's coach on a five-year contract through 2017.
"This is where I want to be and I couldn't be happier," Kingsbury said. "I can't wait to take this thing to the next level."
In his first season with Tech Tech, Kingsbury led the team to a bowl victory and a record a 7-5.
The coach played for the Red Raiders as a quarterback and set records for the team before playing in the NFL for five years.
"There has never been a more exciting time within our football program than now," said Kirby Hocutt, athletic director. "I am very proud of the program Coach Kingsbury is building and I know our fans are as well. We can't wait to kick off the season tomorrow night at Jones AT&T Stadium and are looking forward to a bright future."
Besides the news of Kingsbury's extension, Texas Tech also announced that it will build a brand new facility for practicing indoor football, a new stadium building in the south end zone, and the school's football training facility will be renewed.
The school also decided to extend the contracts of track coach Wes Kittley, tennis coach Tim Siegel, and baseball coach Tim Tadlock.
Pay per head agents believe that the school made a very good decision in keeping Kingsbury's services, considering his experience in the sport and how much he's been able to help the team, and are confident that he'll continue to be a vital part of the Red Raiders.