Lions starters Bentley and Waddle were injured against the Giants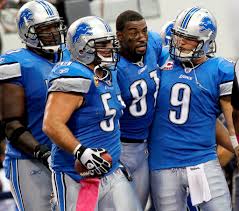 Local bookies saw that on Monday night, two starters were lost by the Detroit Lions in their game against the New York Giants, and it is not known when they will be able to play again.
LaAdrian Waddle had no choice but to leave the game in the first half due to an injury to the calf that Lions coach Jim Caldwell said was as "a bit of a sprain" and Corey Hilliard was the one who replaced the right tackle. Bill Bentley ended up pulling out of the meeting with the Giants with a knee injury that he suffered in the first half, and the player was quickly taken to the locker room.
The players were not seen again on the sidelines during the second half when the Lions beat the Giants 35-14. After the game, the coach did not rule out the possibility that the players would not return to action for a while.
"There's always concern until we find out exactly," the coach said.
Caldwell was not sure when he was asked if Bentley – one of Detroit's five cornerbacks – suffered a torn ACL.
"That hasn't been confirmed yet," he said.
The Lions were already weak in their secondary before Bentley suffered the injury. Detroit were without the services of James Ihedigbo, who starts as strong safety for the team, and Don Carey, the player's backup. Carey ended up missing the showdown after he suffered a hamstring injury, and Ihedigbo was listed as having injuries to the neck and knee, but on Monday night the player said that what he suffered was more of an injury to the shoulder.
Ihedigbo first thought that he would only be affected by the injury for a couple of days or so, but it set him back for over two weeks in his bid to try to fully heal. The player said that he hoped to be all set to take on the Carolina Panthers, but wasn't so sure anymore, and local bookies hope to see him make a very speedy recovery, as they know how important he is to the team.
"It's all based on how I feel," Ihedigbo said. "Leaning in that direction but it's day to day really."