McCoy signs a record-breaking $98 million deal with the Buccaneers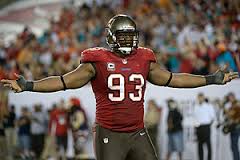 Gerald McCoy's football betting fans were very excited when they found out that the player signed an extension of seven years with the Buccaneers, and the deal could have a value of $98 million, which turns the player into the DT with the highest salary in the history of the NFL.
McCoy is set to get a guaranteed $51.5 million, which is the most that a DT ever made in league history. The player is set to receive $14 million for each year played.
Fox Sports reported the player's signing earlier on Saturday. McCoy's deal was confirmed by Tampa Bay, and the team posted a photo of the player on Twitter that showed him shaking hands with Jason Licht, the team's general manager.
The player would make $111 million in eight years' time, including this year's salary.
On Saturday, Licht and Ben Dogra – McCoy's agent – concluded the deal made with the player.
Dogra said, "Gerald is extremely excited to remain with the Tampa Bay Buccaneers and he is especially thankful to Bucs owners, coaches, and Jason Licht for working so hard throughout the process."
The player is in now in his fifth season with the NFL, and is leaving the best year that he had in the league, when he was able to record 35 tackles and 9.5 sacks. Many experts see McCoy as a key piece to re-build the defense that the team currently has.
The Buccanners, who are 1-5, are having plenty of problems this season, allowing 2014 points, which is an NFL high. However, McCoy is one of the top DT's in the league, and a player who could have a crucial role for the team's progress.
McCoy, who weighs 300 pounds and stands at 6-feet-4, was now able to secure his future with the Bucs for the long term, and is expected to move the team into the postseason, something that he never did before.
"That's eating away at me, man," said the player during the summer. "I do all this training and preparing, trying to do what I can for my team for us to get to the playoffs. I just want to experience it."
Many football betting fans believe that the team will get a very big boost after they acquired the player's services, and can't wait to see him help take the Bucs out of their bad spell.