Mike Wallace said that the coach benched him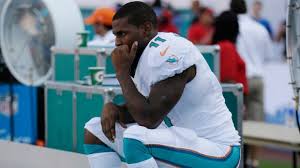 On Monday, Dolphins WR Mike Wallace dismissed reports saying that he told the team's coaches that he didn't want to play in the second half of his team's loss to the Jets, and said that it was the coach who decided to bench him. Now pay her head bookies are wondering about what happened on the field for the player to be sent off.
According to Wallace, Dolphins WR coach Ken O'Keefe told him that he was out of the matchup..
"I found out when I was going back on the field," said Wallace. "I was just told that I was done for the second half. Of course [I wanted to play]."
It isn't clear why the WR was sent out of the game, but at around halftime something definitely happened. The Dolphins or Wallace didn't mention what took place.
"I've never discussed private conversations with players to anybody. It was a private conversation," said coach Joe Philbin "He and I had a discussion. Then, I made a coaching decision. Really, that's all there is to it."
All of the other bits of information came from players who weren't there, which include WR Brandon Gibson and QB Ryan Tannehill.
"I know the frustrating part for him is not being involved as much as he wanted to be," said Gibson. "I think that will be frustrating for any player in any situation, especially to a player of his caliber. … He just wants to contribute. I know that deep down."
Tannehill said that "no confrontation" took place at halftime between Wallace and himself. The QB also said that he wants to see Wallace solve the differences with the Dolphins, and hopes that next season the whole team can move forward.
"I want to be on a great page with Mike," said Tannehill. "He's a great player, had a heck of a season for us and made some great plays for us. So I'm moving forward. We're going to have to be on the same page to get better."
In 2013, Wallace signed a contract worth $60 million, and next season he's set to get a salary worth $9.9 million. Against the team's salary cap, he's counting $12.1 million as well, and pay per head bookies can see that leaving the player is a bit for a problem for the Dolphins.
The WR said that he wants to go back, but is aware of the business aspects and that that there could be a question mark hovering over his status with the Dolphins.
"I'm not a general manager or anything, or a head coach. So I'm not sure," said the player.
The WR ended the year having 67 receptions, leading Miami in and TD's, with 10, and receiving yards, with 862. Miami were able to go 8-8 for the second season in a row.