New Orleans Bowl Nevada vs. UL Lafayette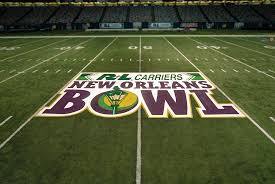 After starting the season 3-3, and having only two games left at home, there weren't many fans or pay per head bookies who thought that Nevada would make it to a bowl, but that wasn't the case this time around, as they won four times in the past six meetings that they played. Louisiana-Lafayette had a 1-3 start to their year, before they closed the season with seven wins out of eight meetings.
The Ragin' Cajuns had one of the passing offenses considered to be among the worst in the country, with a ranking of 102nd place, and one of the nation's best running offenses, ranking at 26th place. Even though the Louisiana-Lafayette have QB Terrance Broadway under the center, so far he played in his worst season. He ended up passing for 2,073 yards, 12 TD's and 9 picks, but the player's ability to run was what was really talked about, as he was able to record three rushing scores with 634 yards. RB Elijah McGuire was the one who was leading the team in their rushing game, recording 1,165 yards and 14 TD's, as 737 yards and 12 TD's were made by Alonzo Harris. In the air, McGuire also happens to be the team's favorite target, as he caught the ball 40 times for 414 yards and 2 TD's.
QB Cody Fajardo did not really have the season he was looking forward to, as he passed for 2,374 yards, 18 TD's and 11 picks as he completed 59% of his throws, which is a low for his career. The player is now on his way to end with the least amount of yards made in his career in a season as the starting QB for the team. But with 997 yards and 13 TD's, the player is the leader in rushing, ahead of the 932 yards and 7 TD's scored on the ground by Don Jackson. When it came to their running game, James Butler was key in their three-headed strike, recording 620 yards and five TD's. WR Jerico Richardson is leading all of the receivers, having recorded 626 yards and 3 TD's on the 53 times that he caught the ball.
UL-Lafayette was very mediocre this season in their defense. Only 28 PPG are allowed by the Ragin' Cajuns along with 422 yards-per-game. Pay per head bookies saw that Nevada wasn't much better at all, as they allowed 28 PPG and 450 yards-per-game, which is not very impressive.