NFL Week 9 Game Analysis: Buccaneers vs. Browns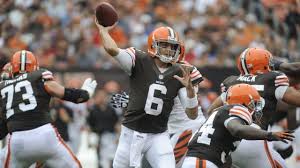 The Browns (4-3) are set to be the one TD favorites when they take on the Buccaneers (1-6) on Sunday, and pay per head agents can't wait to see how Cleveland will do on the field this time around when they face Tampa Bay at home.
The betting like opened with the Browns being the favorites by six points, and the total opened at 44.
Tampa bay lost three times in a row, but two of them happened during overtime. The Bucs were able to take New Orleans to overtime three weeks ago at the Superdome before they ended up losing 37-31, and many fans remember feeling very hopeful for Tampa Bay when this meeting took place in the Superdome. Last week, The Bucs were defeated by the Vikings at home 19-13 in overtime, and this season, they also suffered losses by one score against the Panthers and the Rams.
Tampa Bay could make it within .500 in this game, but they need some luck to do so. The Bucs are still trying to learn under the guidance of Lovie Smith – the team's new head coach, and many experts believe that the Bucs could improve their game in the season's second half,.
Cleveland was able to properly bounce back from the loss against the Panthers , as last week they took out the Raiders 23-13, and were able to cover as the favorites by seven points. On their ground game, the Browns could only manage 39 yards, but for 275 yards, QB Brian Hoyer was able to hit on 19 out of 28 passes and a TD, with no interceptions thrown. The Browns' defense could also hold Oakland away from the end zone until there were only seven seconds left in the meeting, and the fans were at the edge of their seats when they saw this.
Now, Cleveland are 7-1-2 ATS and 7-3 SU in meetings where Hoyer was the starting QB. In total offense, the Browns are ranked at 12th place, in total defense they're only 29th place, but at plus-seven, they're fourth when it comes to turnover margin.
The Bucs don't seem to doing very well at all, but could definitely improve. In the AFC North, the Browns are half a game away from clinching the first spot. Cleveland appear to do much better with Hoyer in their ranks, so pay per head agents believe that it would be better to go with Browns.