Pay per Head Agents: Florida State vs. NC State game analysis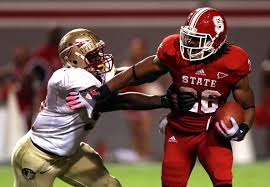 On Saturday, North Carolina will take on Florida State, and pay per head agents can't wait to see what will happen when the Wolfpack face the Seminoles, who are No.1 in the country.
Last weekend, Florida State were able to improve to 3-0 when they beat Clemson 23-17 at home, The Seminoles won't have the services of Jameis Winston, their prized QB and winner of the Heisman Trophy, who unfortunately received a suspension after rude and offensive comments made by the player on campus earlier during the week.
In the absence of Winston, QB Sean Maguire's game was not very consistent, as for 304 yards, the player was able to complete 21 out of 39 passes, as well as two interceptions and one TD. In total yards, Florida State was outgained by Clemson 407 to 317, and their Seminoles could only rush for 13 yards, leaving many fans very concerned over their overall form. In the game, the Seminoles made eight penalties and were just 4 out of 15 on 3rd down.
A fumble made by the Tigers and a very doubtful decision on overtime made by Clemson coach Dabo Swinney helped Florida State not lose the game. Florida State must make very good improvements up front when it comes to their defense, and they cannot afford to lose the ball with their offense when they convert on 3rd downs more frequently. This weekend, Florida State and Winston should concentrate more and be set to play away from home after the team's last unsatisfactory performance.
This year, NC State moved up to 4-0 last weekend when they faced Presbyterian and beat them 42-0. So far, they played what could be considered to be second-rate action, but the Wolfpack prevailed. NC State have an average of more than 245 rushing yards, as well as over 250 passing yards made per game. The Wolfpack is making more than 40 points per game played, while only allowing 18.5 to the first four teams that they faced. So far, QB Jacoby Brissett did a pretty good job on the field, as he was able to complete 83 out of 119 passes for 1005 yards, as well as 10 TD's. RB Matt Dayes and RB Shadrach Thornton both rushed and recorded a combination of 500 yards and 8 TD's. With three TD's and nearly 400 yards, WR Dayes and Bo Hines are the ones who lead the Wolfpack when it comes to receiving. Now NC State will be the ones to host the country's top team at Carter-Finely Stadium.
Many pay per head agents believe that this Saturday, Florida State and Jameis Winston will be the ones to come out on top. The Seminoles will be more concentrated in their game after they were able to avoid being beaten by Clemson last weekend at home. Florida State will enter an environment that could prove to be very hostile when they take on NC State.