RB LeSean McCoy said that he did not change as a player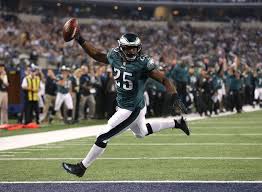 On Wednesday, Eagles RB LeSean McCoy said that it makes no difference to him if there are people out there who don't see him as being the same player on the field as the one that he was in 2013, when he was the top rusher in the league, and pay per head services could see that he was not very happy at all when asked about this.
The RB recoiled when he was asked if he didn't change as a player since last year, when he was able to gain 1,607 yards, which is a record for the team. This season, the player was able to record 729 yards after he featured in 10 meetings. Last year, he was able to make 932 after 10 games played.
"I'm not even going to address 'am I the same player?'" said McCoy. "That's for you all to figure out."
Then the player answered what was asked.
"Are you crazy?" said McCoy. "I am the same player. I'm not going to sit here and play that game, like, 'Am I the same player?'"
The player's fall in his performance level happened after he said in May that he was the league's best RB in an interview that took place in May with "First Take" of ESPN.
There were many reasons why Philadelphia's running game was not as productive.
Without a serious threat in depth, defenses were able to keep up a safety more than what they could a year back and against other teams.
"We see what teams do on tape," said the player. "Then we see them, and they're doing things completely different against us."
Early this season, McCoy was clearly struggling. Then, following a solid stretch of three games, pay per head services saw that the player was able to record 19 yards in Week 10 against the Panthers.
"Statistically there is [a drop-off], but I think we're a different team," said coach Chip Kelly.
Last season, all five of their starting linemen were able to play 16 games as well as a game in the playoffs, and this season, only LT Jason Peters could start in all 10 meetings.
"We had some situations where there were some holes blocked pretty well and then a guy would fall off late," said Pat Shurmur, offensive coordinator for the Eagles. "The safety would come down and maybe make a play where we had 5- or a 6-yard run, where at times we might get a little bit less."
Shurmur said that there is one thing for certain: Philadelphia is not planning on leaving their run, and their fans definitely don't want to see this happen.
"Different season, different opponents, different team," said Shurmur. "We are going to stick with it regardless of the score because we feel like we can run the ball, gain yards and score points doing it."