Rob Gronkowski believes that he is ready to take on the Dolphins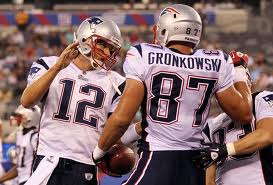 Local bookies learned that Rob Gronkowski, tight end for the New England Patriots, was not willing to talk about his status for his team's opening game on Sunday against the Miami Dolphins, but he did say that that he will play.
Gronkowski, who on January 9 went through surgery for a torn right ACL and who for the very first time went back to team drills on August 18, was not able to play for New England during the preseason.
"Super excited, super pumped. I feel mentally and physically ready, for sure. No doubt about it," Gronkowski said. "My mentality now is I'm ready to go, I'm ready to be out there, I'm ready to hit, I'm ready to start going."
Last year, when Gronkowski went back to action after an injury on his forearm, it was not until the fifth game when he was able to play on every snap. The player does not expect to have too much work against Miami on Sunday.
"Definitely not [playing] every single snap, but just get out there, get my feet wet, whatever coaches have, whatever we game-plan this week will be good," the player said.
The tight end said that he will probably wear a knee brace, but has no plans to make any changes on the way that he plays. On Monday, he seemed to be in very good spirits following months of very tough rehabilitation.
"It feels good to be out here now this week, preparing for the Dolphins, knowing that I put myself in the best situation the last few weeks and few months to get back out here," the player said. "That was my plan the whole time — to work as hard as I could so I'd be ready for this week."
Even though Gronkowski's return to action surprised many local bookies, Miami did not see this as a surprise at all.
"We were fully prepared. We saw he was on the 53-man roster so we have to be prepared for every combination," said coach Joe Philbin. "He's an excellent player. He's been very productive throughout his career. So we will have a good plan in place. … We will be ready for him, for sure."