Roddy White and Douglas were upset after 'funeral' talk by Lewis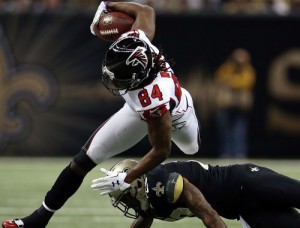 Falcons WR's Harry Douglas and Roddy White had some things to say to Saints CB Keenan Lewis after Atlanta beat New Orleans on Sunday 30-14, and pay per head wagering companies saw that the players did not back down with their words.
Lewis said that Atlanta would end up at their "funeral" after being beaten by the Saints, leaving the race in the NFC South. But things didn't go his way, as the Falcons were able to beat New Orleans, and they're now in a place to clinch the divisional title and make it to the playoffs by defeating the Panthers in their meeting next Sunday.
White, who pushed Lewis' face mask, said how the CB did not play all of the snaps made by the team after receiving IV treatment for reasons that were not released. Lewis left the game during the first half and late in the second he returned to action.
"If you're going to go out there and be talking about funerals and arranging funerals and bringing in flowers and doing all that stuff, you've got to finish the game," said White. "Unfortunately, he didn't even play the whole game. … Today, at [3:48 p.m.], we just woke up out the grave. So right now, we're going to get ready for next week."
And Douglas was a bit more severe with his words.
"If you're going to talk, you're going to have to play the whole game," said Douglas. "He didn't play the whole game. He checked himself out and tried to come back late. But everybody's hurt. We know if you're a dog or not. We're dogs in our group, so we know a dog when we see one. And he checked out early.
"The one thing I know is we've got each other's back no matter what, so we're not going to let anybody punk anybody on this team. It's not happening. I don't care who you are or what team you play for. We stand for too much, so that's not happening."
Then Douglas was asked about the trash talk that took place with Lewis during the game, and pay per head wagering companies saw that things did not go very well at all.
"That's between the field and me," Douglas said. "I know one thing: If I'm going to talk junk, I'm going to be out there every play, no matter what. You can't send us to a funeral you're not showing up for, bottom line."
When the game was over, Lewis responded.
"They hate us, we hate them, but hats off to those guys," Lewis told the New Orleans media. "They came out here and fought. And they deserve to move on."