Skai Moore won't start in South Carolina opener against Texas A&M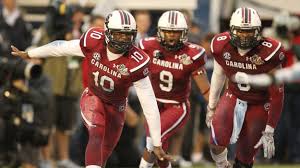 Skai Moore, who impressed many pay per head fans last season with his skills as a linebacker, and who happens to be the Gamecocks' top tackler, won't be able to start in his team's season opener on Thursday against Texas A&M after he ended up missing an important treatment session to help heal a shoulder injury, and many fans now hope that this won't come as a blow for the Gamecocks when they take on the Aggies.
Lorenzo Ward, who's the defensive coordinator for South Carolina, said that Moore's place will be taken by sophomore Jonathan Walton, a player who as a freshman was able to lead the Gamecocks with four interceptions and 56 tackles, and who many experts believe could be on his way to becoming a star in the game.
Ward said that the decision to take Moore out of the team's opening game was to ensure that in the future, the player does what he's meant to do, and his fans seriously hope that he learns a very good lesson from this and does what he's told – especially when it comes to medical treatments. Local bookies are not very sure as to how the Gamecocks will benefit from Moore's absence when they take on Texas A&M – maybe his replacement will do a proper job on the field, but what will happen in the game remains to be seen.
Ward also said that the injury sustained by Moore will not be something that will keep him from playing early on in the season opener against Texas A&M, who currently have a ranking of 21st in the NCAA, and there are many fans who believe that they could prove to be a serious threat to South Carolina.
A year ago, the player was part of the Southeastern Conference's all-freshman team, and was able to catch the eyes of fans and experts alike with his displays.
This showdown is set to be the first one between Texas A&M and South Carolina, and many fans expect to see a very intense clash when both teams face each other on Thursday.