St. Louis Rams vs. Seattle Seahawks Week 17 Preview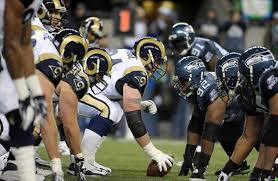 The Seahawks are the better team at home, as they went 9-1 SU and 7-3 ATS over their last 10 games that they played at home. However, pay per head wagering companies saw that in the last five meetings that they had with the Rams, the Seahawks are only 3-2 SU and 1-4 ATS. And Seattle might have to beat St. Louis on Sunday so they can get the top seed in the playoffs of the NFC.
The betting line opened with the Seahawks as the favorites by 10 points, and 41 was the total.
St. Louis were doing pretty well, with five wins out of eight games SU, going 6-2 ATS with victories over the Seahawks, 49ers, and Broncos, and consecutive wins over the Raiders and Redskins. However, the Rams ended up losing the last two meetings that they played after they lost to the Giants 37-27 at home. Early on, St. Louis were trailing 20-3, and late during the third quarter they were able to make it to within 27-20, but then lost their power.
This season, the Rams have a ranking of 25th place in their total offense, but a lot of it has to do with the QB position. And even though St. Louis have a ranking of 18th place when it comes to their total defense, they were also able to hold five out of the last eight teams that they took on to 12 or less points. Also, the Rams beat the Seahawks 28-26 in October.
Earlier during the season, Seattle didn't have it easy at all, but they were able to win five consecutive meetings after winning 35-6 last week against the Cardinals on the road. Seattle recorded 596 offensive yards, held Arizona to only 216 total yards with three scores in the game's fourth quarter, and covered as the favorites by nine points.
Seattle, being 11-4, are now able to clinch the NFC's top seed by winning on Sunday. The Seahawks are the ones who are leading the NFL when it comes to outrushing the teams that they face, with 91 yards scored this season for each game played. And so far this season, teams that they were able to outrush were mostly able to cover.
The Seahawks are the defending champions of the Super Bowl, and they want to win it again. However, this season Seattle were somewhat not what they were last season, and St. Louis are a very difficult team to face.
This game could prove to be very intense, and even though the Seahawks could very well win this meeting, many experts and pay per head wagering companies believe that the best choice might be the Rams.