Stephen Curry believes that Lacob's criticisms distract the Warriors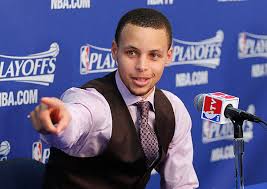 Stephen Curry, All-Star guard who is admired by internet bookmakers around the world, believes that Joe Lacob's strong criticisms about Mark Jackson – their former coach – are a distraction for the Warriors, who have the top mark in the league and were able to win 12 games in a row, which is a record for the team.
After the public apology issued by Lacob for having trouble with the way that Jackson managed the team, Curry told the media: "I think it's unfortunate, just the distraction from what is going on right now. Obviously, we're playing well, and you can nitpick of what's the difference between this year and last year, but you're talking about two great coaches [in Jackson and current coach Steve Kerr]."
The guard spoke at a shootaround before the game in Minnesota on Monday night.
Lacob said on December 3 about the firing of Jackson that "part of it was that he couldn't get along with anybody else in the organization. And look, he did a great job, and I'll always compliment him in many respects, but you can't have 200 people in the organization not like you."
On Sunday, Lacob was apologetic.
"I have a tremendous amount of respect for Mark Jackson and what he accomplished as our head coach. He did a terrific job," Lacob wrote, according to the news outlet. "I've said that many times over the last several months and in recent days, including at this week's event. I was asked to draw comparisons earlier this week between building businesses in the tech world and the sports world, and unfortunately, I used some poor judgment. That's my mistake. I did attempt to reach out to Mark on Friday, and I certainly apologize for my comments and any unintended harm. I know that Mark will succeed again in this business."
Regarding Lacob, the player said: "For him to apologize is a big gesture."
"My whole thing is not to discredit anything Coach Jackson did because he was such a great coach for us and elevated a lot of our individual games, and I'm proud of that and appreciate that. And obviously it's a new era, a new experience that we're in right now, and we're enjoying it."
Kerr, commentator for the NBA, was the one who took the place of Jackson, and internet bookmakers can clearly see how much he's helping the team in their efforts to make it very far this season.