Texas fans worried as Ash suffers concussion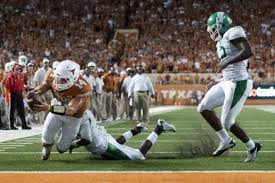 Pay per head fans can see that Texas suffered yet another blow, as not only Espinosa is out with a broken ankle, but now it turns out that David Ash suffered a concussion that won't let him play for the Longhorns this weekend in their bid to get even with BYU after losing to them last year.
On Monday, coach Charlie Strong said that the player won't be able to play this week, and Tyrone Swoopes will replace him.
"We would never jeopardize a young man's health for the good of the football team," said the coach.
The coach said that Ash received a hit in the first quarter of the Longorns' 38-7 victory over North Texas' Mean Green, and then the player was ok – or so they thought. Trainers then got a midnight call from Ash. The coach said that some symptoms suffered by the player after the game were dizziness and headaches – typical symptoms of a concussion.
The player suffered concussions in the past, and last season one of them made him miss ten games for Texas. During the offseason, Ash was given the green light to return to action, but Ash now had yet another concussion – and the coach said that doctors are evaluating him. It would be safe to think that his career as a college football player came to a definite end.
Regarding a replacement for Ash, the coach said that sophomore Swoopes can "execute the offense," but many fans believe that the player is not very experienced at all. Swoopes featured in 5 games last season, and in 2013 he was a four-star part of Texas' recruiting class. The player was only able to throw for 26 yards, but he did rush for 79 yards and scored a touchdown. Still, many pay per head fans see plenty of promise in the player, and they seriously hope to see him as a proper replacement for Ash.
Texas fans can see that the team is currently in no easy position, and know that a concussion is nothing to take lightly. Hopefully Ash's condition will improve, and whatever happens, the team and their fans hope to see him make a very good recovery.