The Jaguars' Posluszny will be placed on the IR list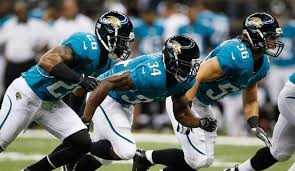 The first win clinched by the Jaguars in 2014 came at a very big price, as the team lost the services of two of their starters at defense, and middle LB Paul Posluszny is among these players, as he tore his pectoral muscle and is now out for the season, to the concern of many football betting fans, especially those who know just how important he is to the team.
DE Andre Branch will also not be able to play for six weeks – at least – after he suffered a tear to a groin muscle, but Jacksonville's biggest blow comes after they lost Posluszny. The team will place the player on the IR list, and this week he's set to receive surgery. Many experts believe that these losses could prove to be crippling for the team, especially with their 1-6 record this season.
Posluszny is not only Jacksonville's best player at defense and their top tackler (69), but he happens to also be one of the team's leaders, and the one who makes their defensive calls.
"It's tough because he is talented and he is a captain of our team and a leader," said coach Gus Bradley on Monday. "To downplay that part of it wouldn't be fair to him. Important part, but I do believe that we'll have guys step up and move on."
Posluszny is with the Jaguars for his fourth season, as well as his eighth one overall. In each season from 2008 to 2013, the player was able to achieve a record of at least 110 tackles made. In 2013, the player recorded 162 tackles and was ranked second in the league.
The Jaguars' football betting fans found out that in his career, Branch was able to make 10 sacks, which include six made in the 2013 season. This season, the player was able to make thirteen tackles, two forced fumbles, and three sacks. In the case that the player can return to action in six weeks' time, he would hit the field on December 7 when the Jaguars face the Texans.