The Vikings Peterson expected to play on Sunday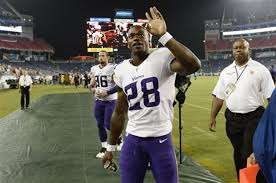 On Monday, the Minnesota Vikings said that RB Adrian Peterson – who the team deactivated for their loss to the New England Patriots after he was indicted on charges involving child abuse – would hold full practice this week, and pay per head agents were surprised to learn that in Week 3 he "is expected to play" in the Vikings' game against the Saints at New Orleans.
"Today's decision was made after significant thought, discussion and consideration. As evidenced by our decision to deactivate Adrian from yesterday's game, this is clearly a very important issue," team owners Mark Wilf and Zygi Wilf said. "On Friday, we felt it was in the best interests of the organization to step back, evaluate the situation and not rush to judgment given the seriousness of this matter. At that time, we made the decision that we felt was best for the Vikings and all parties involved.
"To be clear, we take very seriously any matter that involves the welfare of a child. At this time, however, we believe this is a matter of due process and we should allow the legal system to proceed so we can come to the most effective conclusions and then determine the appropriate course of action. This is a difficult path to navigate, and our focus is on doing the right thing. Currently we believe we are at a juncture where the most appropriate next step is to allow the judicial process to move forward.
"We will continue to monitor the situation closely and support Adrian's fulfillment of his legal responsibilities throughout this process."
Rick Spielman, Vikings General Manager, said that "all options are on the table" for the player's future with the team, and that the league is looking to evaluate the player's case.
Minnesota sent out a very strong message when they decided to deactivate the player for their game against New England on Sunday. However, pay per head agents can see that the team's most recent announcement after their big loss to the Patriots pretty much shows what the Vikings are feeling about the player's importance to the team.