The Vikings won't say if Bridgewater will start against the Packers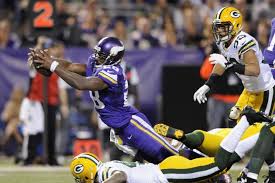 The Vikings' football betting fans were left with a huge question mark hovering over their heads, as the team will not say what's going to happen with Teddy Bridgewater when the team faces the Packers on Thursday night.
After the rookie was limited in practice this week for the first time, the team decided to put him on the questionable list at Lambeau Field.
On Sunday, Bridgewater's left ankle was sprained in the fourth quarter of the Vikings' game against the Falcons, and on Tuesday the player said that he made plenty of progress since Sunday, saying that his ankle is feeling "pretty good."
However, on Wednesday, coach Mike Zimmer said in a radio interview on SiriusXM that Minnesota would make a decision on the player before Thursday's game gets underway.
"We will see how Teddy Bridgewater is doing tomorrow," said Zimmer. "It's a long season, so we don't want to put him at risk."
Christian Ponder is set to make his year's first start against Green Bay if Bridgewater doesn't make it, but many fans are confident that he will. Ponder was the one who had a doubtful status as starting QB the last time that the team visited Green Bay to take on them in a prime-time clash. The player was questionable for an NFC wild-card showdown in 2013 against the Packers, and ended up missing the meeting due to an injured elbow.
However, Ponder could now take the place of Bridgewater if Minnesota makes the decision to not put the rookie on the field on what has been predicted to be a rainy night.
Bridgewater, who was able to throw for 317 yards on Sunday when he debuted as the team's starting QB, appeared to be in very good spirits on Tuesday regarding the chances that he has to face Green Bay, but the player would not give any percentage.
The player apparently has a 50-50 chance of starting in the game against the Packers. Many football betting fans are also very optimistic to seeing Bridgewater start, and if he can't, they believe that Ponder will do a very good job in stepping up for him.