Virginia's defense could be no match for Georgia Tech's offense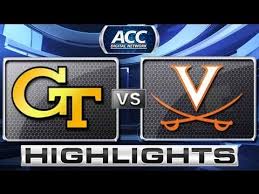 Virginia currently have 3rd place in the ACC Coastal Division, and this season they are 4-4. Local bookies saw them being defeated by Duke and then by North Carolina, and now the Cavaliers are looking to properly bounce back from these losses. Virginia's defense, which is considered to be very talented, will now face Georgia Tech's offense at the Bobby Dodd Stadium.
So far this season, Georgia Tech have a 2nd placed ranking in the ACC, and are 6-2. Many fans saw the Yellow Jackets just take out Pittsburgh, and at this point in the season, the team appears to be a real contender. If Georgia Tech end up winning, the Yellow Jackets could have a decent chance of hitting the field for the ACC Championship game after Thanksgiving.
Georgia Tech are famous for their ability when it comes to running the ball, as the Yellow Jackets have a 326 rushing-yard average which in the FBS is good enough to clinch 4th place. These yards come thanks to QB Justin Thomas and his skills on the field. The player – who many experts believe is a serious threat – was able to record 717 running yards and 1,106 passing yards, scoring 15 times. When the Yellow Jackets face the Cavaliers, the player's ability to work with the ball in difficult situations should seriously work in favor the team.
Now, Virginia's offense is nothing to brag about, mostly due to their problems in the red zone, which most likely stems from the QB position. Virginia's 204 yards-per-game average is also short of spectacular.
However, the Cavaliers' defensive line is one of the best right now in the ACC, which helped them win 2 times in the conference. For them to win this week, Virginia's defense has no choice but to be better than they already are, as they'll be trying to stop a dangerous offence when they face Georgia Tech.
In order for the Cavaliers to beat the Yellow Jackets, they have to be able to stop Georgia Tech's very threatening offense. In week 10, Even the Cavaliers' solid defense could have problems trying to do this. The Yellow Jackets' defense is eaving its seasons' best outing so far, and now they're set to take on a mediocre Cavaliers offense. Many local bookies believe that Georgia Tech could give Virginia a very good pounding when they square off on Saturday.