Vontaze Burfict gets $25,000 fine for twisting ankles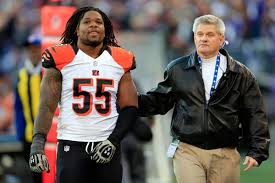 Bengals LB Vontaze Burfict was given a $25,000 fine for two incidents involving twisting players' ankles when the team tied 37-37 with the Panthers last Sunday, as confirmed by the NFL on Friday. The player's "tactics" are very serious violations of the team's rules, and football betting fans can see that they're anything but fair play.
The LB, who is famous for his talent but becoming infamous for his behavior, twisted the ankles of Panthers TE Greg Olsen and QB Cam Newton after both of them were tackled while scoring TD's.
In an e-mail, the NFL office said that Burfict was given the fine "for two unnecessary roughness violations. Specifically, he unnecessarily twisted an opponent's leg after plays in the third and fourth quarter."
Officials did not penalize the player after what he did on the field, but the NFL issued Burfict a penalty of its own after coach Ron Rivera sent tapes to the NFL, and Panthers players spoke about Burfict's actions.
On Thursday, sources reported that Burfict has plans to appeal the fine that was given to him.
Many football betting fans remember when last season, Burfict was issued a fine of almost $60,000 after his actions that took place in games that took place against the Packers, Bills, and Jets. Last season, as he was leading the league in tackles, the player also picked 14 penalties, and 9 personal fouls are in the mix.
Cincinnati did not speak about the fine directly, but this week, defensive coordinator Paul Guenther and coach Marvin Lewis both said that the player cannot cross the boundary between playing aggressively and breaking the rules of the game, and well, many fans can see that.
"Everyone's looking at him. It's on the tape. It's on the field. He can't cross that line," said Guenther.
"You've got to play within the rules. He plays hard. I'm never going to take that away from him, because that's who he is. But he's got to watch some of the things he's doing, because he's on the list. The 'list.'"