Will the Bucs bounce back against the Ravens?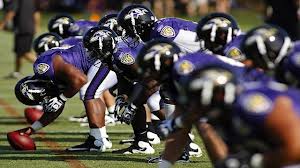 On Sunday, the Buccaneers still want their season's first win at home, and many sports software services believe that they can also cover their third consecutive game when they face the Ravens. Last week, Tampa Bay suffered a 37-31 road loss to the Saints in overtime as the dogs by 11 points, while Baltimore were able to cover three games in a row before they were beaten by the Colts 20-13 on-the-road as the dogs by 2.5 points.
Baltimore's betting line opened with them being the favorites by 3.5 points, and 43 was the total.
The Ravens were able to cover their last three meetings before they ended up losing to the Colts, and so far this this season, they didn't lose two consecutive games ATS or SU. Baltimore did a very good job when it came to their defense, as they didn't give up over 23 points, and the team will be visit a Bucs side who have problems with their offense, and who this year had a total of 31 points in their two games played at home. Tampa Bay did improve in their last two meetings, but the Ravens were able to win their last two games by a combination of 34 points, which include a pounding of 27-0 to the Bucs back in 2006, in a game that many fans still remember very well.
Sports software services saw that in Week 3, the Bucs were completely demolished by the Falcons 56-14, but since then Tampa Bay played in a more competitive manner and in their last two meetings they were able to score 13 more points than they did in the team's first three games put together. This is in part due to the team's steadiness when it comes to their QB, as Mike Glennon is getting used to being again the team's starter after Josh McCown was called up in the team's first three meetings before he hurt his thumb when facing Atlanta. With Glennon starting, the Bucs are 2-0 ATS, and in the team's last four games with the Ravens, they're 3-1 against the line.