Anthony Crolla trains again after skull fracture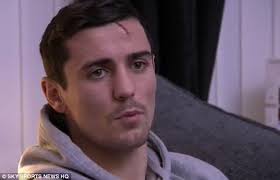 Anthony Crolla's fans were delighted to learn that the fighter went back to training after suffering a skull fracture that shocked the boxing world and sportsbook software services.
Crolla, who won the WBO inter-continental lightweight title, suffered a brutal attack by alleged robbers on the 16th of December outside of his house, and couldn't compete for the world title against WBA champion Richar Abril, in a fight that was set to take place on the 23rd of January.
However, he completely recovered from the injuries, and the Mancunian fighter was very happy to go back to the gym and get back in action.
The fighter said: "I never stopped believing this day would come from the moment I was in the hospital bed through to the operation.
"I didn't know it would come so soon though so I'm made up to be back. It's good to be back with the lads. I woke up so excited this morning. It's amazing how much you miss it.
"I believed my recovery time would be shorter than most because I'm a young fit lad and I live a clean life. I've got a great physio who I've been seeing a few times a week. I've followed all the stretches.
"I've been very lucky with the people who've helped me and that's the main reason I've recovered so well. I can't put a date on it just yet but for the last few weeks I've thought I'd be ready for May, which is a lot sooner than most people expected.
"Obviously it depends on the date (Matchroom promoter) Eddie Hearn and the team can deliver so I've got to wait on that. I'll be ready for a big fight then – I've just got to be careful I don't rush back too soon."
Since then, Abril made an agreement to take on Derry Matthews from Liverpool, who Crolla lost and had a draw with in a couple of classics in the domestic scene, and sportsbook software services believe that this will be a fight to remember.
Regarding the fight set to take place on the 6th of March, Crolla said: "Richar Abril has got to make a living. He can't wait for me to get better. He's a world champion and he's got a worthy challenger in Derry Matthews. It's a fight I'm looking forward to watching.
"I'm a great believer in everything happening for a reason. I'm not sure what the reason is just yet but that'll explain itself in time and I'm very confident I'll get that world title shot at the end of the year."