Brandon Fusco will stick around for a while with the Vikings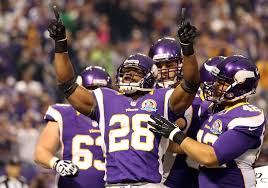 Sports software services can see that Brandon Fusco won't leave the Vikings any time soon, as on Saturday, Minnesota said that they extended the player's contract, and many experts believe that the team made a very good move in keeping his services.
Sources reported that the guard made a $25 million deal with the Vikings that will see him stay with the team for five years, and a guaranteed $6 million is also include in the contract.
"I am very excited to get this deal done and continue my career with the Minnesota Vikings," the player said. "I want to first thank the Wilf family, Rick Spielman and Rob Brzezinski for taking the chance on me and believing in my abilities. I want to also thank my teammates and Jeff Davidson for always pushing me to become the best player I could be at this point.
"I have always wanted to stay in Minnesota. The fans and support here is great. There is no place I'd rather be. I'm looking forward to the 2014 season and helping the team reach our ultimate goal — a Super Bowl championship."
Rick Spielman, the team's general manager, was also happy to see that a deal with the player has been made, and with very good reason.
"He is a valued member of our offensive line," Spielman said. "Brandon is a player that has come in and done everything that we have asked. We strive to draft players that are not only talented, but meet our criteria both on and off the field. Brandon is another example of our core group of young players that we are excited about keeping together for years to come."
Many fans remember when In 2011, the player was picked in the sixth-round from Slippery Rock – an NCAA Division II team – and the following year he turned in a starter – the same year when Adrian Peterson was able to rush for 2,097 yards.
NFL fans saw that for the third season in a row, Minnesota did not touch their offensive lineup, and price per head fans believe that for now it should remain the same.