Brock Lesnar commits to WWE, not the MMA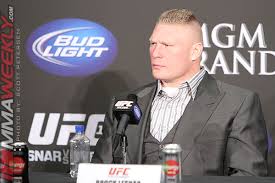 MMA betting fans had a tough pill to swallow this week as 37 year old Brock Lesnar announced on Tuesday that he had signed with WWE.
"It was a hard decision to make. It took me a year. I've thought about this for a year. At the end of the day, it's all about me wanting to have fun. The last two-and-a-half months I've been training to get back into the Octagon. I felt physically great, but something lacked mentally — and that's not good."
Lesnar will be appearing in Wrestlemania 31 this weekend in California, and MMA betting fans had once thought that because his old contract was about to expire, they may once again see him in the octagon.
Lesnar started in the MMA in 2007 and was an instant favorite amongst fans.
"I could go back to the Octagon, but what am I going to gain? I was the UFC heavyweight champion of the world. Due to my illness, my career got cut short. That's God telling you, 'it's time to move on.'"
Lesnar's last appearance for MMA betting was in 2011 in December when he went up against Alistair Overeem and lost to a knockout in round 1.
Even with a better offer, Lesnar's heart just wasn't into returning to MMA, and no money could change that.
"Lorenzo said to me, 'Can we sharpen our pencil? Can we double it?'" Lesnar told The Associated Press. "I said, 'It's not about that. I'm calling you to tell you where my heart is, and it's not about the money.'
"And then in the back of my mind, I'm thinking, 'Well, yeah, it is about the money, but I don't have to beat myself up for it.' To prepare for another MMA fight, we're talking 16, 18 weeks of pure hell, and then the cage door shuts and it's on."
As for Wrestlemania 32, there are rumors swirling that the Rock may fight Lesnar, however Dwayne Johnson's schedule seems to be a problem so In his place WWE will plan another big name to draw the crowds next year just outside of Dallas at AT&T Stadium.