Ethan Farmer can now play for North Carolina in 2014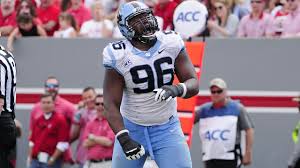 On Thursday, North Carolina announced that Ethan Farmer, defensive tackle who many football betting fans know is a vital part of the Tar Heels, was cleared to hit the field in 2014 for the team.
The senior lineman was listed on the team's depth chart as being an "OR" starter, as the Tar Heels' coaching staff were waiting to find out about the player's eligibility because of an NCAA problem that has not been disclosed.
"We are thankful to have Ethan cleared to play and I know he's excited to have this behind him," Larry Fedora said.
"Ethan is our only experienced player on the defensive line and we'll be counting on him for senior leadership in that group. He has practiced hard during the preseason and has not let this situation affect his preparation for the season."
Farmer, who last season was a starter in all of the team's 13 games and was a contributor for two years, is one of the players with the most experience when it comes to their defense, and the Tar Heel's fans are very well aware of his knowledge of the game. The player's absence would have proved to be another problem for a defense that already ended up losing the services of four of their defensive backs – and two of them happen to be starters – because they were suspended for one game due to team rules. North Carolina's defense is set to return to action one hundred per cent on September 6, when San Diego State visits Chapel Hill, in a game that many fans don't want to miss.
North Carolina will lock horns with Liberty on Saturday at 6:00 p.m. ET, and many fans anticipate a very intense match.
They can also see that that their team is the big favorite amongst many experts to win the game, and are confident that they shouldn't have any major problems when they face Liberty.
The Tar Heels should put on quite a show when they take on Liberty, and their football betting are sure that they'll see their team shine on the field.