Froch's trainer says that negotiations for Chavez fight are going well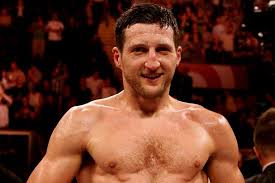 Rob McCracken, Carl Froch's trainer, said that there are talks being held for a possible clash with Julio Cesar Chavez Jr, and he believes that negotiations are going well. If things work out, fans and online bookmakers know that they'll be in for quite a show in Las Vegas.
Froch wants to push ahead with plans to take on the Mexican in a fight in Las Vegas, even though the Nottingham fighter was ordered to face James DeGale, putting his IBF super-middleweight title in jeopardy.
Bob Arum, who promotes Chavez Jr, was recently raising doubts on the bout actually happening due to a disagreement in the contract, but Froch's trainer said that progress was made and they're also talking about when the fight could happen.
"We are still going through the Chavez offer and whether that will happen at the end of March," he said.
"Nothing has been confirmed yet, but we are in talks about Carl fighting Julio Cesar Chavez Jr.
"Until we know what is happening there, obviously everything else is secondary.
"Until something is signed you never know. It's moving in the direction that Carl will fight Chavez shortly, but obviously it's not been done yet.
"Talks are ongoing and we are positive, and hopeful, that it is going to happen shortly."
The 37-year-old Froch is training again, but McCracken thinks that in 2015, his fighter won't fight more than twice.
In the case that Froch disagrees with a fight this month, DeGale is set to take on Andre Dirrell to try and clinch the IBF title, but later during the year these rivals could meet.
McCracken said: "He's back in the gym training and is enjoying it. He's talking about one, possibly two fights, but we will take it one step at a time.
"Whatever motivates him and interests him is ultimately what he will decide to do.
"He will definitely fight again and hopefully it will be against Chavez in a big Vegas fight next,
"James DeGale is the mandatory so that will be looked at as well. We will see where that goes.
"There may be two big fights before the end of the year, but there won't be any more than two fights that's for sure."
Boxing fans all over the planet hope that things run smoothly so they can see Froch take on Chavez, and many online bookmakers are confident that these fighters will eventually face each other in what could be a massive showdown in Las Vegas.