Jimmy Graham traded to Seattle Seahawks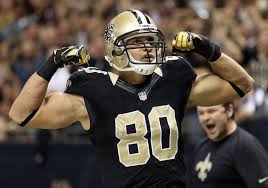 Seattle Seahawks have announced to their NFL fans that they have acquired Saints wide receiver Jimmy Graham.
After all of the negotiations to keep Graham in New Orleans last year, price per head sportsbooks have now learned that he will be relocating to the Emerald City this summer.
As to whether he knew that the Saints were planning on trading him, Graham responded, "no, not at all really. I would say about a month ago, maybe not even a month ago, I was in the city and saw Mickey (Loomis) and was talking about next season with Mickey. Even when the season ended, just talking with the coaches, talking about what we're going to do, what we're going to work on, so it was definitely out of left field."
This is of course is a great move for Seattle as they could use an improvement in their receiver side after sending Percy Harvin to the New York Jets last year, but who has since been released.
Seahawks QB Russell Wilson reached out to Graham to welcome him to the team.
"The first guy to reach out to me was Russell. He called me right away, shot me a text and we briefly spoke and talked about his goals and his team's goals and what has been going on and catching up and sharing some things. What I shared with him was exactly the chemistry thing."
Seattle are currently at the top of the board of the odds to win the 2016 SuperBowl with 6 to 1 odds while this year's SuperBowl champions, the New England Patriots are 13 to 2 while NFL fan favorite Green Bay Packers are 7 to 1.
The Saints originally wanted to trade two receivers, most likely to clear out their hefty salary cap. In the end Saints general manager Mickey Loomis and Seahawks general manager John Schneider agreed to Graham and a fourth round pick for center Max Unger and a first round pick and some price per head sportsbooks feel that the Saints got the better deal.
Either way, Graham is happy to go to Seattle to be part of a winning team.