Local Bookie: The Steelers must control their turnovers when they face the Panthers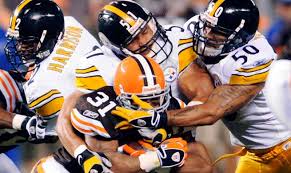 On Thursday Night, the Steelers received a serious 26-6 beating by the Baltimore Ravens – their historic rivals. Local bookies know that ever since 2008, 10 out of their 12 meetings ended within only three points, but the Steelers made a lot of fumbles, and many fans were upset to see them being hammered by the Ravens in Week 2.
Pittsburgh have to control their turnovers – they have no choice. The Steelers have four turnovers in two games so far, with three of them made against Baltimore. Now the Ravens have a turnover difference of +13 against the Steelers in the last 12 games played by both teams, and these types of mistakes are perfect for a team to get a good pounding and lose a game.
Even though they seem to be quick to make mistakes, Pittsburgh's offense continues to be very functional. In Ben Roethlisberger's last two games, the player was able to throw for 578 yards, besides being a great escape artist when it comes to eliminating pressure, and making very difficult throws while on the move.
If Pittsburgh should have any concerns with their offense, diversity should be it. In the first two games played by the Steelers, wideout Antonio Brown and RB Le'Veon Bell could not be stopped, but their offense didn't have enough range beyond that. And if Brown or Bell happen to get injured – like Brown was in a big part of the first half against the Ravens – the team's offense could become too weak.
However, getting injured or not injured largely depends on luck, but some of you may think that it's due to fate or whatever other reason. In any case, if the Steelers' big three can stay healthy on the field for the team's offense, and limit the team's turnovers, they can take on a great Panthers defense.
Cam Newton was very impressive in his return after he ended up missing Week 1 due to an injury to the rib. Carolina fans can be even more encouraged, as the player was able to protect his ribs and only rush on four occasions, getting a very easy 19 yards in the process.
Carolina got their second win of the season and did it in a very nice way, as in week 2 they were able to outplay the Lions defensively and offensively, even though on third downs they only went 3 for 12 with less total yards.
Newton's story was pretty big, but Greg Hardy's absence was also very important. The defensive end was out of game 2 as media focus on domestic violence charges involving NFL players continue to be on the spotlight.
Carolina's amazing defense did a very good job on the field – and didn't seem to need Hardy when they were able to hold Matthew Stafford and the Lions' very dangerous passing offense to only 253 yards.
Local bookies believe that regardless of whether Hardy plays or not, Carolina will try to go after Big Ben just like they went after Stafford, but this time around things could work out in a different way. When dealing with pressure, Roethlisberger is the league's top signal caller, having a quarterback rating which almost triples the one of the NFL's next-best QB when he's being hunted by opponents.