Marshawn Lynch could be fined $100,000 for not talking to the media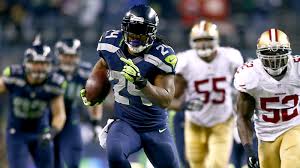 There's a very real possibility that the NFL could give Marshawn Lynch, RB for the Seahawks, a fine of $100,000 after the player was not willing to talk to the media in the team's locker room following their 24-20 defeat to the Chiefs at Arrowhead Stadium on Sunday, in what many total betting services see as a very disappointing loss.
On Sunday, sources reported that Lynch was informed by the league that he would be given a fine of $100,000 if he was not willing to talk to the media once the game was over. This amount of money stems from a fine of $50,000 that was imposed last year, but that ended up being suspended later on for not talking to reporters.
The fine ended up being lifted by the NFL, but the league also gave the player a warning that in the future, the fine would be reinstated if the player isn't willing to cooperate, as well as an additional fine of $50,000 – and now this might very well be what the player will face.
A couple of weeks ago, Lynch was talking to reporters after the win against the Raiders, but didn't say anything to the media last weekend when the Seahawks beat the Giants.
After Sunday's game at Arrowhead Stadium, the media was waiting at the player's locker. Lynch dressed up quickly, put his backpack on, and then proceeded to walk out while reporters were trying to talk to him. But the player did have an interview with the NFL Network through the phone after he left the team's locker room, and it still isn't known if the phone interview will prove to be enough for him to avoid receiving the fine, and this is something that many fans would really like to find out.
In the Seattle's defeat by Kansas City, Lynch was able to rush for 124 yards on 24 carries, which would be the player's second 100-yard rushing game in a row. Now, on 177 carries made this season, the player was able to record 813 yards rushing for an average of 4.6.
Many NFL fans and total betting services can understand that the player could have felt frustrated after the team's loss, but know that he could have saved himself some trouble by just saying a few things to the media. Hopefully the NFL will not be too harsh on him regarding this fine, but if he gets it, well he should learn to simply follow the rules of the league.