Mayweather vs. Pacquiao fight talks almost completed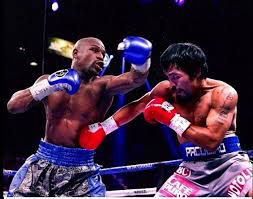 The fight between Floyd Mayweather Jr and Manny Pacquiao will apparently take place after both sides held positive discussions, and contract issues between them seem to be over. Online bookmakers and fans alike are now looking forward to a massive showdown, and can't wait to hear the fight's official announcement.
It took approximately six years of disputes for Mayweather and Pacquiao to get this close to a real fight, but after phone numbers were exchanged in an NBA game on Tuesday between the Heat and the Bucks, as well as a lengthy conversation that took place in a hotel, both fighters seem to be very eager to face each other on the 2nd of May at the MGM Grand in Las Vegas.
In the midst of talks on a Miguel Cotto rematch, Mayweather's team said that a contract hasn't been made yet, but as Pacquiao is willing accept a purse split of 40%, there's the real possibility that an announcement will be made on Sunday, the day of the Super Bowl.
"I think Floyd is sincere about wanting the fight, I really do," said Michael Konz, the Filipino's adviser.
"I know Manny has wanted it and he's ready to fight and has been for a while. So I'm very optimistic.
"For the most part, it was just Floyd, Manny and I in the room and it was a very good conversation.
"Nobody can stop this. I can't stop it. Pacquiao's promoter Bob Arum can't stop it, HBO can't stop it, Showtime can't and Mayweather's advisor Al Haymon can't. The only ones who can stop it are Floyd and Manny and right now they're both saying they want the fight.
"We're treating him as the A side in this because we just want to get it done and we want to give the fans what they've been asking for, for years."
One obstacle that was talked about when both sides met was the fight's broadcasting. Pacquiao's bouts are shown by HBO, while the American has a contract with Showtime. Konz said that these issues were resolved, and now the obligation went to Mayweather, as he must be the one to say that the fight will happen.
Mayweather, the welterweight champion of the WBA and WBC, is undefeated in 47 fights, and Pacquiao, who currently owns the WBO welterweight title, is at 57-5-2. Both are monsters in the sport, and online bookmakers are confident that the fans will be in for a huge showdown once these fighters face each other in Las Vegas.