Mike Pouncey practices with the Dolphins for the first time since June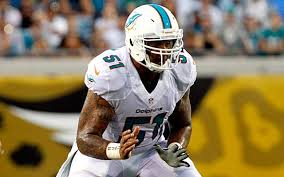 On Tuesday, Mike Pouncey, center for the Miami Dolphins, was practicing with the team for the first time since June, when he received major surgery on his hip. Many Live betting fans were very happy when they learned about this, and are very optimistic to see him hit the field again as soon as possible.
The player's status will not be known until sometime later this week. However, Pouncey believes that he is well enough to make his debut when the team takes on the Kansas City Chiefs on Sunday.
"I feel like I can play," he said. "But it ain't my decision. It's really not that tough. Honestly, I'm just listening to what the coaches say and the doctors say because they know best."
The center said that he fully participated in Tuesday's practice, and reporters saw that the player seemed to be moving around pretty well.
Pouncey was not able to feature for the team during the preseason, in all of the team's training camp, as well as for the regular season's first two games. The diagnosis that Pouncey got was that he wouldn't be able to play from 4 to 7 games, but the player did a very good job in rehabilitating his hip, and continues to be ahead of time in his recovery process. During training camp, he said twice that he's looking forward to playing on Week 4 in London when the team takes on the Oakland Raiders there. His return on Sunday would work even better for Miami and their offensive line, which is proving to be very inconsistent.
"I feel normal. It just feels good to get back in a stance without [my hip] hurting again," the player said.
"Right now, it's just listening to what team doctors tell me as far as reps in practice. But I'm full go almost."
Many Live betting fans believe that Miami would greatly benefit if they can get Pouncey back early in the season instead of later. The team's offensive line was badly struggling in their 29-10 loss to the Buffalo Bills last week. Miami was only able to rush for 80 yards, and allowed four QB sacks.