N.C. State barely takes out Georgia Southern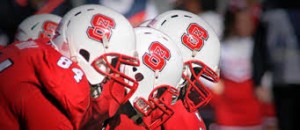 Sports software services saw a very close encounter between N.C. State and Georgia Southern on Saturday, as Jacoby Brissett helped the Wolfpack take out the Eagles 24-23, throwing for 291 yards and 3 touchdowns in the second half of both teams' season opener.
Many fans were at the edge of their seats when they saw that with 1:37 remaining, Brissett was able to connect with Matt Dayes down the right sideline for a 35-yard TD pass.
The Eagles did have an opportunity, but with 1:02 remaining, Kevin Ellison's pass on the fourth-down from his 28 ended up falling as incomplete, to the frustration of their fans.
Two TD passes were caught for N.C. State by Bra'Lon Cherry, which at halftime were trailing 17-3 and in the fourth quarter 20-10.
Georgia Southern's fans then felt a glimmer of hope when 184 yards were passed for Ellison and rushed for an additional 116. Matt Breida made a very impressive 61-yard TD run for the Eagles, and then things became even more exciting.
The Wolfpack – which lost the 2013 season's last eight games, disappointing many fans in the process – was again not in a very good position.
The Eagles' fans were even more optimistic, as being ahead 20-10, they were able to stop the Wolfpack's Shadrach Thornton on fourth for no gain and 1 from the Eagles' 9 on the fourth quarter's first play. They ended up taking the ball and drove ahead when a turnover from N.C. State completely changed the game's momentum.
Ellison did not have a chance to get the ball on the center-quarterback swap on second and goal from the 1, something that worried many fans. The fumble was recovered by the Wolfpack's Monty Nelson.
On 12 plays, N.C. State went 99 yards – Brissett found Cherry for a 13-yard TD, cutting the Eagles' lead to 20-17.
Ellison's 52-yard run helped Georgia Southern move back down the field, but the Eagles' fans let out a sigh of relief when their team settled for Alex Hanks' 31-yard field goal to take a lead of 23-17 with 3:35 remaining.