Oklahoma should have no problems beating Texas Tech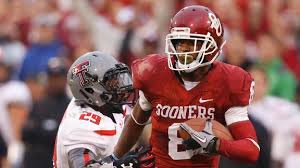 Oklahoma are set to visit Jones AT&T Stadium to take on Texas Tech one week after Baylor gave them a very big beating. Making things worse for the team, bookmaker software services saw that starting QB Trevor Knight ended up going down in the game's fourth quarter when they were beaten 48-14 after the player suffered an injury to the neck, leaving the game. Knight's status for this weekend's meeting is not clear, and there won't be a line until light is shed on the player's health.
The Red Raiders are leaving their week off and have problems in the QB position. Coach Kliff Kingsbury was upbeat that the team's bye week will let QB Davis Webb return from an injury to the ankle, and Patrick Mahomes return to the game after a concussion that he suffered. If these players are unable to go, Vincent Testaverde Jr. will be the one to get the starting role. Taking on Oklahoma with either a walk-on true freshman player or a QB playing after an injury is not a very good thing for Texas Tech, especially since the team ended up losing six out of seven meetings.
Even though the season could be virtually over for the Red Raiders, the Sooners still have the opportunity of making a good game at a bowl, and Oklahoma will be given no choice but to get over the disappointment coming along with a loss as disastrous as the one that they suffered last week. To do this, the most important thing is returning to the basic things that make the Sooners a team that can take out almost any opponent.
The Sooners had a lot of consistency this year in running the ball, with a running game leading the conference with a 5.6 yards-per-carry average, while on the ground the Red Raiders were not able to stop anybody. In the Big 12, Texas Tech are the last ones against the run, and they were not able to change this.
Knight could be rested when the Sonners take on the Red Raiders, as there are not many reasons to hurry the player back into action when they take on a team that should be easily defeated. Considering Texas Tech's problems at the QB position, and their tendency to make very ugly mistakes with their offense when they take on their opponent's attacking defenses, bookmaker software services believe that there isn't much hope for them.