QB Deshaun Watson set to receive hand surgery on Monday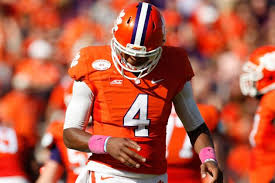 Sports software services learned that Clemson QB Deshaun Watson is set to receive hand surgery after it was injured when the team took on Louisville on Saturday night, and sources reported that the player could miss 5 weeks of playing time, but it could be less.
The QB's throwing hand suffered the injury in the first quarter as he was going to the left, when a tackle by Louisville on the left sideline led Watson to land with his upper hand in an awkward manner. Before Watson went to the sidelines, he stayed in the game for two additional plays, which include a completed pass.
Coach Dabo Swinney said that the player suffered a broken finger, and that he would end up missing "several weeks," but apparently on Monday the player will receive surgery. News of the surgery was first reported by The Greenville (S.C.) News' Scott Keepfer.
As Watson had to leave the game, Clemson were able to hold on to a victory on Saturday at 23-17, stopping Louisville from making a goal-line drive in the game's last moments.
The player's injury could prove to be a very seious setback for the Tigers, who were able to win three games in a row, as this season, the team's only defeats were to the Georgia Bulldogs and Florida State Seminoles. Even though Watson wasn't able to play in most of the game against the Cardinals, the Tigers are still 3-0 with the player starting for the team. Watson, who on September 20 took the place of Cole Stoudt as the Tigers' QB against Florida State (currently the No. 1 team), was able to record 1,181 passing yards, as well as 12 TDs moving into the game against the Cardinals – to not mention the 435-yards and 6 TD's that he made on September 27 against the North Carolina Tar Heels.
In the absence of Watson, Stoudt will be the one to start as QB, and sports software services would like to see him do a proper job for the Tigers in upcoming meetings.