Sammy Watkins' ribs are feeling "just about normal"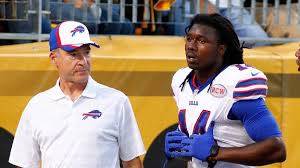 Sammy Watkins, wide receiver for the Buffalo Bills, is not complaining about his injured ribs, as the player said that they feel "just about normal" after Monday's practice. The player also said that he's feeling good, to the relief of his fans and price per head agents.
Buffalo have time until Wednesday for their injury report to be released, so how much the player took part in Monday's practice is still not known. On Thursday, Watkins ended up leaving left the team's preseason finale after he happened to injure his ribs again.
The player hopes to hit the field in the team's opener on Sunday, when they take on the Chicago Bears.
"We'll just go and see how far I can go," he said. "I think it's just the pain tolerance I'm gonna have to get through. I just gotta be prepared for it."
But many fans believe that the player he may not be one under percent when the game gets underway.
"Just about any other rib injury. Just the soreness of it. Nothing else can happen with the ribs," the player said. "You just have to go out there and be strong and finish the game. If I need to take a breather, take two or three plays off from being hit, that's what I'm going to do."
Price per head agents saw that the first time that Watkins injured his ribs came from a hit from Pittsburgh's Ryan Shazier in his team's third game of the preseason. Last week, the Lions' Ashlee Palmer ended up giving the player a similar hit.
"It's just a situation where I felt the same thing I felt I did in Pittsburgh. They told me it was a contusion and then find out it was something else. All the staff and I were just happy we found out what it was," Watkins said. "Now I know what to look for when I get hit. Just go on the sideline, take a breather and I could have went back in the game also."
The player was then asked what he meant by "something else".
"It's the same injury, just a little deeper than what it was," Watkins said.