Smith loses his cool and swears at a fan after the Jets lost to the Steelers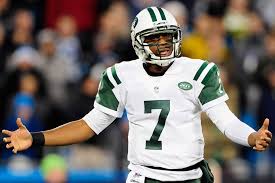 Football betting fans were very surprised to see that on Sunday, QB Geno Smith lost his temper after the Jets' third loss in a row, swearing at a fan as he was walking off the field after the team lost to the Lions at 24-17.
"F— you!" he yelled.
The incident's footage shows the player – who was not wearing his helmet – staring into a crowd before swearing. The fan isn't shown in the footage, and no audio of what the fan yelled can be heard.
The QB apologized when he opened the news conference after the game. Smith did not want to specify what was said by the fan, just saying that it came only from one individual, and it wasn't a comment that was related to Michael Vick.
However, the heckler had a seat in an area behind the Jets' bench with fans chanting "We Want Vick!". Smith had another bad performance – two lost fumbles and an interception – and this ended up with fans chanting for Vick.
Coach Rex Ryan gave Smith a vote of confidence, as he said that the second-year QB will continue to be the starter for their game against the Chargers next week. However, Smith is getting plenty of pressure, and this could have led to the outburst.
"I want to apologize if any kid saw me saying any negative remarks walking off the field," said Smith. "I kind of let my temper get the best of me in that situation. It's part of my learning process. I have to get better with that. I have to let that stuff roll off my back, but today I didn't do well with that."
The NFL did not give an immediate response when asked whether Smith will be fined or not.
When DT Sheldon Richardson was asked how he would answer to upset fans, the player said, "Shut up. If that's the case, produce a child to make it to the NFL, we'll see what he's got. Other than that, just shut up. We've got coaches to do that."
Smith said that he didn't react in any way when the fans were chanting to see Vick return. Football betting fans know that the team's fans are very upset because in four games the player had eight turnovers, and 25 were committed in his season as a rookie.
"The important thing is that I get my guys rallied up and get them ready to go next week because next week is the most important game for us," said Smith.
"We can't dwell on this," he added. "Whatever it is, I have to make sure I right the ship and get this thing going."
The coach was very clear when he supported the QB.
"I'm not going to replace him," he said. "I feel good about Geno."