Terrel Hunt won't be able to play for Syracuse for at least a month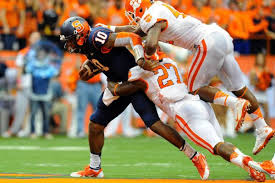 Sports software services found out that on Monday, Syracuse announced that Terrel Hunt, starting QB for the Orange, suffered a broken fibula and will be out of the game from four to six weeks, and George McDonald will no longer be the team's offensive coordinator, as coach Scott Shafer decided to remove him from the job.
Syracuse's fans were very concerned when they learned that last Friday night, Hunt suffered the injury when Louisville defeated the team late in the game at 28-6. Austin Wilson was serving as backup, and the player is now the favorite with the team to get the starting job when the Orange face the Florida State Seminoles on Saturday, in a game that is eagerly anticipated by fans all over the country.
Despite Hunt being in the team's lineup, the Orange's offense was seriously struggling all season with their consistency problems in the red zone. Even though eight starters were returned by Syracuse, the Orange, who are 2-3, have a 13th ranking in the ACC when it comes to scoring offense and were only able to manage 21 points in their past two games against the Notre Dame Fighting Irish and the Louisville Cardinals.
Tim Lester, QB coach, will be the one to take over the duties of offensive coordinator, and many fans believe that the school picked the right man for the role.
"He, George and the offensive staff will continue to work alongside one another striving to improve our offense together," said Shafer. "George will continue to coach our receiver unit. Tim will take charge of the play calling and the development of our young quarterbacks as we move forward without Terrel Hunt as he works to rehab his injury.
"We are committed and unified to take the actions necessary to maximize the talent and drive of this football team."
Orange fans and sports software services would like to see Hunt recover as best and as quickly as possible, and are confident that he'll be in top shape when he returns to the game.